Modern Standard Arabic – Lughatuna alfusha – Samia Louis
MODERN STANDARD ARABIC – LUGHATUNA ALFUSHA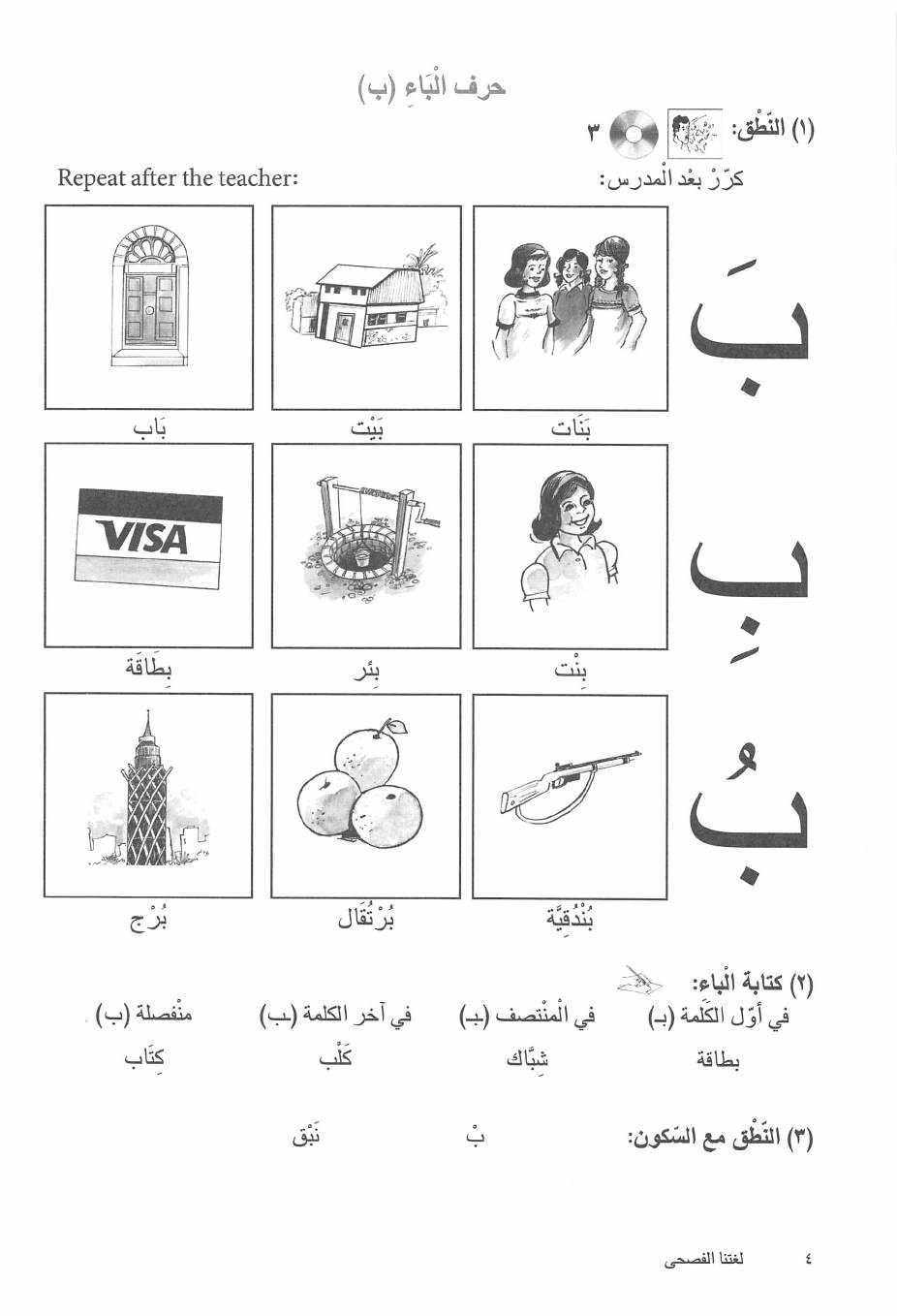 The writer writes; Following the success of our Kallimni 'Arabi colloquial Egyptian Arabic series, we now present our new Modern Standard Arabic (MSA) course, Lughatuna al-Fusha.
 This integrated course is a flexible multilevel Arabic program for students of Modem Standard Arabic, from beginner to advanced levels.
Book 1, which is aimed at students with no prior knowledge of Arabic, is designed according to the guidelines set by the American Council for Teaching Foreign Languages (ACTFL). The book helps build students' reading and writing abilities, gradually taking them from 'novice low' to 'novice high' (over three beginner levels).
Lughatuna al-Fusha Book 1 uses meaningful contexts to present basic language, along with clear grammar strategies to enable students to confidently use Arabic. By the end of Book 1, users will be able to read and write.
The aim of this book is to help students communicate orally and in writing in a number of survival situations. Content such as everyday vocabulary is emphasized, progressively building and enforcing students' knowledge of sentence structure through real-life situations.
Students will learn to:
Introduce themselves and ask people for their names
Greet others and express basic courtesy
Respond, read, and initiate short, limited conversations
Ask for and give limited instructions and directions to taxi drivers, and be able to read simple instructions
Learn sufficient vocabulary to ask for basic information such as train timetables, movie bookings, tickets, and so on
Shop for personal needs or gifts and read bills and receipts
Write about their daily routine
Read weather information and timetables, and make out prices
Write short personal letters, greetings, or apologies
Write about themselves and their families
Read about Arab culture and friends
Book 1 is divided into ten modules. Each module consists of:
An outline of the module
Two presentations through which students will encounter:

New grammatical forms in the target language
This book provides practice in all four skills with an emphasis on reading and writing. It proceeds in a gradual step-by-step fashion with frequent recycling of vocabulary and grammar, and clarification strategies of certain structures.
To read more about the Modern Standard Arabic book Click the download button below to get it for free
or
Report broken link
Support this Website

for websites